Tennis is a very spectacular sport to watch, no wonder why it has so many fans and continues to be one of the favorite sports for millions of people for so long. With that, there were (and are) definitely some stars in tennis, who have become true legends. You'll find them all here, in our list of 7 best men's tennis players ever.
1. Roger Federer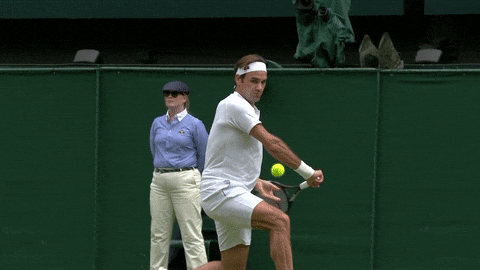 Roger Federer is pure elegance personified on the tennis court. It's impossible to imagine a more well-rounded sportsman in all aspects. Federer is athletic, competitive, proficient, and, what's extremely important, has the mental power to apparently never get disturbed. His individual characters, for example, his footwork make him a truly dynamic player. The Swiss international's record is 20 Grand Slam titles. There was a time when Federer took the world's first spot for 5 years in a row. He is undoubtedly the best tennis player ever.
2. Rod Laver
Rod Laver truly is a legend. There are many people who consider him to be the best tennis player of all time, but we gave him the place next to the top spot. Throughout his career, Rod Laver won two hundred individual tournaments! He was ranked as the best player in the whole world for as many as six years. This Australian sportsman was only 5'8, but his game was unbelievable. Laver looked like a masterpiece sculpture out of marble. Technically great and brutal in performance, Laver was a true titan in the history of tennis and sport in general.
3. Rafael Nadal
Despite the fact that we've seen remarkable rivalries throughout the history of tennis, the one between Nadal and Federer is unmatched. In any other time period, Nadal would be recognized as the out-of-doubt G.O.A.T. In a way, it's similar to comparing Lionel Messi to Cristiano Ronaldo. Anyway, Nadal has shown over the years that he is a very gifted player. Whenever he serves the ball or pummels a forehand, Rafael is impressive. He has 17 Grand Slam titles, Also, the Spaniard has won over 82% of all matches in his career.
4. Pete Sampras
Pete Sampras wins the title of the best American tennis player ever. He first became pro when he was a 16-year-old prodigy. Both his opponents and tennis fans quickly witnessed the whopping serve of Sampras. He combined remarkable power with the capacity to defeat his opponents by hitting the corners towards the back baseline or slicing the ball. In addition to his 64 individual titles, he has won amazing 14 Grand Slam titles. But the climax of Sampras' career happened during his battle with Agassi. The two sportsmen had constant competition with each other. First of all, they were both American. Secondly, each of them was a world-class player. During the final match of 2002 US Open, Sampras defeated Agassi.
5. Novak Djokovic
Novak Djokovic shouldn't be neglected at all, because 'The Joker' has confirmed being amazingly gifted. Djokovic may well have the greatest backhand compared to any other player. And he can't be called a passive player, however, he's the one looking to raise the tempo. The aggressiveness of Djokovic only improves his efficiency on the court. Throughout his career, Djokovic has received 13 Grand Slam titles. The Serbian sportsman has won 82.5% of his matches since the start of his professional career.
6. Bjorn Borg
Bjorn Borg was a butcher on the court. His confidence together with his calm personality had lead to many people hopping on the Borg 'hype train.' Borg's famous two-handed backhand had an enormous amount of topspin. Also, his long strides led to a very clear covering of the whole court. In just ten years, the player had won respectable 11 Grand Slam titles. Probably most impressive, he won 89.8% of his major matches, including a 51-4 record at Wimbledon, as well as a 49-2 standing in French Open matches. Bjorn Borg surprised millions of people when he retired at 26. If this hadn't happened, maybe Borg would've been in the first place in this list.
7. John McEnroe
Even though John McEnroe is well-known for his on-court performances, he was an excellent tennis player, too. He always played with a great amount of style, and his touch was delicate, especially when he was volleying the ball. John McEnroe had the versatility to play on seemingly any surface. Amazingly enough, McEnroe got as many as 77 singles titles and 78 doubles ones, including 7 singles Grand Slam championships with 9 more in doubles play. His matches with Connors and Bjorn Borg continue to be the high points in the last few decades.